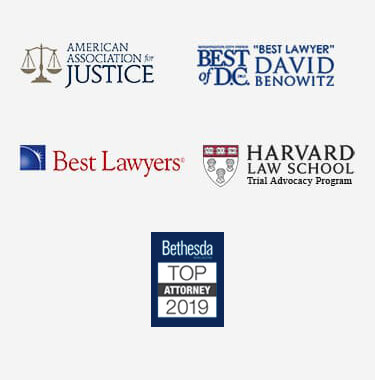 Arlington Workers Compensation Attorney
If you have been injured due to a fall or other accident that occurred while at work in Arlington, Virginia, you should become familiar with the workers' compensation system in that jurisdiction. As an injured worker, you may be entitled to benefits. However, the nature of your compensation may depend on the actions you take following a work-related injury. Do not rely on your employer or their insurance company to automatically provide a fair settlement for your long-term injuries, lost wages, and medical bills. Hiring an Arlington, VA workers compensation lawyer with a proven record of success is the best way to protect your medical and financial future.
Workers' Compensation Claims in Arlington, VA
Workers' compensation claims result from an accident or incident involving a person performing work for his or her employer. Such claims may also entail an occupational disease. The laws dictating workers' compensation claims are different for each state and jurisdiction. The jurisdiction, the type of accident, and the potential for future injury or permanent impairment can all play a decisive role in your case in a workers' compensation case. An experienced personal injury lawyer who has litigated cases in Arlington is best-suited to answering your questions and helping you to determine if you should move forward with legal action.
Many injured workers are unaware of their legal rights. This is one reason that you should contact a well-qualified attorney as soon as possible. Your failure to act quickly or to adhere to the proper procedures can substantially hinder your case. According to the Virginia Workers' Compensation Commission, an injured employee must report a work-related injury to their employer within ten days and file a claim with the Commission within the statute of limitations, which in Virginia is typically no later than two years after the accident or the date that you realized you were injured. An injured worker should also seek immediate medical attention. After being injured on the job, an employee should save all bills, receipts, and records related to their medical care, as well as other forms of treatment that were necessitated by the accident, such as psychological therapy. Employers must file a report of the accident with the commission within 10 days.
Find a Workers' Compensation Lawyer in Arlington
If you have been injured on the job in Arlington, enlisting the services of a personal injury attorney knowledgeable about the local laws governing workers' compensation as well as the local courts is crucial. Call the personal injury group at our law firm, and let us put you in contact with an Arlington, VA workers compensation lawyer who can help.
Workers' Compensation Statistics
The Commonwealth of Virginia reported 9,334 workers' compensation claims totaling $9,015,912.72 for the period of July 2011-June 2012. The National Council on Compensation Insurance estimated that 65 percent of workers' compensation cases are for temporary disability and 34 percent are for permanent, partial disability.
There are a number of businesses and government institutions that provide employment in Arlington, including Lockheed Martin, Marriott International, Virginia Hospital Center, the United States Department of Defense and the U.S. Department of Justice and the U.S. Department of State, just to name a few. In 2013, the city's population was listed at 227,146 residents who live directly across the Potomac River from Washington, DC. And in 2011, the Bureau of Economic Analysis (BEA) announced that Arlington County was ranked among the best counties for the highest rates of compensation per job. The BEA list ranked Arlington third out of the top ten counties nationwide for total compensation in 2010.