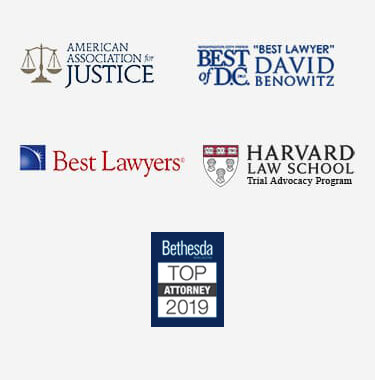 Hampton Roads Personal Injury Attorney
Personal injury litigation is the civil process to determine fault and apportion damages for any physical injury suffered by a victim due to the negligence of a person, company, or legal entity that caused an accident.  The only people who can file a claim or lawsuit against the negligent party for their injuries are those who were owed a "legal duty of care" that was violated by the defendant, which resulted in injury or wrongful death. Those persons are said to have legal "standing" to file suit.
Regardless of the nature of a negligence-based accident that causes injuries, an experienced Hampton Roads personal injury lawyer raises the prospects for injured plaintiffs to receive fair compensation from defendants who are reluctant to pay legal damages.
Elements for Personal Injury Claims
When considering whether to pursue personal injury claims for damages as a result of a serious accident, all victims can benefit from the knowledgeable guidance of a Hampton Roads personal injury lawyer, who can help them to understand the intricacies of what lies before them.  Common questions arise, such as:
Do I have a legitimate claim?
What sort of reasonable damages can I expect?
Can I be reimbursed for more than my medical costs?
What sort of evidence must I show in order to receive damages?
Many of these can be answered, or at least understood, by considering the "four pillars" of successful personal injury claims.
Duty (or duty of care) – The defendant must behave in the manner that is expected of a reasonable person in their situation, and act in a negligent, reckless, or intentionally harmful manner.
Breach – The defendant violated their duty.
Causation – As a direct and proximate result of this breach of duty, an injury was suffered by the innocent party.
Damages – The injury suffered was more than "hurt feelings," indeed it was an actual injury for which all categories of damages are compensable.
One other element that is important to remember is that you must have a solvent defendant. This means they either have their own funds with which to pay damages, or insurance to cover such losses.  Nine times out of ten, the source of compensation will come from the insurance company that protects the defendant.
Types of Personal Injury Claims
The Hampton Roads personal injury lawyers at our firm handle many different types of cases. Below, some of the more common types of cases are discussed.
Motor vehicle accidents – These involve autos, commercial trucks, motorcycles, and even boats.  They injure or kill hundreds of people annually in Virginia.  There can be many defendants, such as negligent drivers, careless owners of commercial vehicles, and negligent road-improvement or construction contractors.  Anyone who directly or indirectly causes a vehicle accident may be held liable.
Medical malpractice – This occurs when a doctor or health care professional injures a patient because of failure to provide care that is consistent with the expected standard of care for those in this profession.  Errors in diagnosis, improperly prescribing drugs, and treatment errors are common avenues to medical malpractice.  Negligence, ignorance, or intentional acts by a doctor, nurse, equipment technician, lab worker, and in some cases hospital or outpatient care center administrators can lead to malpractice.
Premises liability – Negligent maintenance of property is the most common cause of premises liability cases. Apartment complex, hotel, office building, restaurant, and shopping mall owners can be defendants.  But homeowners or residential renters can also be liable for premises liability accidents. These cases are generally referred to as "slip and fall" claims.  Premises liability can be quite complex in determining the true liable defendant because often, accident scenes can change in the blink of an eye.  Liable parties will quickly change the accident scene in order to avoid responsibility, which is why it may be in your best interest to contact a Hampton Roads personal injury lawyer before filing a claim.
Defective products –A commercial or consumer product, as well as dangerous drugs, can cause serious injuries and deaths.  There are several ways in which this can happen:
Improper product design
Substandard manufacturing, in a variety of ways
Inadequate warning labels or other documentation that discloses the dangers associated with the product's improper uses
Most defective product (or drug) cases are successful when the plaintiff's Hampton Roads personal injury attorney can prove strict liability, which means the product was dangerous in the condition it was sold.  If this is the case, it is not necessary to prove negligence.  But in order for punitive damages to be considered in any defective product lawsuit, negligence must be proven.  It should be noted that Virginia is in the minority view of states in that it does not embrace a strict liability approach to products liability cases.
Personal Injury Damages
The following is a breakdown of the types of damages that an injured plaintiff has a right to seek from the defendant:
All present and future medical bills related to the incident
Payment for physical pain and emotional suffering
Loss of present and future income (which includes any lost or lapsed benefits)
Compensation to repair or replace any property that was damaged or destroyed in the accident
Reimbursement for any temporary or permanent physical or mental disability
Punitive damages (if they apply)
Wrongful death and survivor claims – Tragically, accidents often produce deaths.   In addition to needing financial compensation for bills and other expenses, family survivors are dealing with their own pain, mental anguish, emotional loss, and grief.  The Virginia Wrongful Death Act allows survivors to also seek reimbursement for additional damages, such as funeral expenses and loss of consortium, assistance, and care that the decedent provided, and survivors' own emotional pain and suffering.
Personal Injury Statutes of Limitations in Virginia
According to Va. Code Section 8.01-243(A) and Va. Code Section 8.01-244(B), the statute of limitations for personal injury, product liability, and wrongful death is generally two years.  The statute of limitations for medical malpractice is generally two years as well.  There may be some exceptions to the two-year limitation in malpractice claims, depending on the type of malpractice and when it's "discovered" [Va. Code Section 8.01-243(A) and (C), however, such questions of law are often fact-specific and you should contact an experienced personal injury attorney right away rather than relying on general Internet information.  These are just some of the many questions that your Hampton Roads personal injury lawyer can answer during a free initial case evaluation.