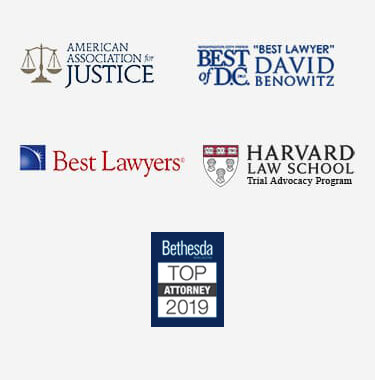 Virginia Car Accident Attorney
Virginia has financial responsibility laws, and this means that if someone is injured in a car accident, the at-fault driver will be faced with taking financial responsibility for the medical bills. Most people plan to take financial responsibility by purchasing auto insurance from a licensed auto insurance company in NoVa, and this ensures that the at-fault driver will have some degree of bodily injury liability coverage that will pay third party bills. The situation becomes difficult when the injured file claims for the at-fault driver's bodily injury liability coverage and the company refuses to pay the bills. Those who find themselves in this situation should call a Virginia car accident lawyer to help them obtain the compensation they deserve. Speak to a knowledgeable personal injury attorney to discuss your legal options.
Liability in Car Accident Lawsuits
Virginia is a tort state, and this means that lawsuits due to car accidents are not limited by no-fault laws, as may be the case in other jurisdictions. If the operator of a motor vehicle injures another driver, passengers, pedestrians or bicyclists, the injured may be entitled to compensation and may use the courts to obtain it, particularly if the other driver made a mistake like failing to yield. By working with an experienced Virginia car accident attorney, those injured can file a personal injury claim in NoVa court for damages resulting from the collision.
Motor vehicle accidents may result in a multitude of damages, including economic damages. The injured may need to miss work because they are recovering from the accident, or they may need to enter into a rehabilitation center. They may have several visits to doctors, surgeries, medications and tests, all while incurring substantial medical costs. If the injury is very serious, they may require care for the rest of their lives and need compensation to pay for this high level of attention. A TBI, or traumatic brain injury, is an example of such an injury that one might sustain in a head-on collision or a rear-end collision.
Proving Someone at Fault for a Wreck
The legal principle of negligence is what allows someone to be held financially responsible for harm they cause someone else, even if there was no malice or intention in their actions. Accordingly, a finding of legal negligence by the defendant named in a lawsuit or settlement demand generally plays a central role in most successful car accident claims.
In a nutshell, a driver in Virginia may be considered negligent if they do something reckless or careless that directly leads to someone else getting hurt. Negligence can take many different forms depending on the circumstances leading up to a car crash, from expressly illegal actions like speeding to simply irresponsible actions like driving while distracted. Because of this, various forms of evidence may be necessary to prove negligence and therefore hold someone else at fault for injuries and losses sustained in an auto accident.
In some cases, finding out if a particular party pled guilty to a ticket in a wreck may be sufficient, making them liable for the ensuing incident. In other situations, a Virginia car accident attorney could help seek out additional documentary, forensic, and testimonial evidence of negligence, including surveillance camera footage, photos from the crash scene, and input from both eyewitnesses and accident reconstruction experts.
Can a Family File a Wrongful Death Action?
If someone passes away as the result of the accident, the deceased's family members may pursue the at-fault driver for the loss of their loved one and the loss of their main breadwinner in a wrongful death action. Damages associated with a wrongful death action arising out of a motor vehicle fatality may include medical bills, emergency responder expenses, reasonable funeral expenses, pain and suffering, and economic damages such as loss of future anticipated earnings.
How Does a Person File a Claim for Property Damage?
Virginians who had their property damaged in a car accident can file a claim for their damaged property as well. NoVa drivers must purchase property damage liability coverage to pay third party repair bills for all damaged property or pay into the Uninsured Motorists Fund, as administered by the Virginia Department of Motor Vehicles (DMV). If the at-fault driver's auto insurance company is contesting these bills, those with damaged property can bring a lawsuit against them as well. The damaged property in question may be another vehicle, but it can also include private property other than a car, including personal effects such as laptops, iPods, clothing, or other items damaged as a result of the at-fault driver's negligence.
When to Hire a Virginia Car Accident Lawyer
Often, people involved in a motor vehicle accident may be wary about talking to an attorney for any number of reasons. They may wonder what a lawyer can do for their case, may not know what types of questions they should be asking, or may be worried about the price of legal services. People who have suffered injuries or damaged property as the result of a car accident should not wait until they hear from the at-fault driver's car insurance company to contact a lawyer; they should do so right away after the accident occurs. Securing the knowledge of a legal professional early on will help make sure they get everything right in case they need to bring a lawsuit against the at-fault driver and the insurance company. In the event that legal representation is not necessary for one's case, an experienced personal injury attorney will be able to tell an accident victim as much, while providing guidance and peace of mind at a potentially difficult time.
Legal Requirements After Virginia Car Crashes
Before any civil litigation begins, there are a few procedural steps car accident victims must take in order to avoid being criminally charged with hit and run. Anyone who is unsure whether they have fulfilled these requirements should speak with their Virginia lawyer about doing so before beginning a car crash lawsuit or settlement demand.
Under Code of Virginia §46.2-894, every person involved in any kind of traffic accident—whether it results in injury, death, or just property damage—is legally obligated to stop their vehicle out of the flow of traffic as soon as possible and render aid to any other involved party who needs it. They must also provide their name, address, vehicle registration number, and driver's license number to everyone else involved as well as to any responding police officer(s).
If an accident victim is injured and cannot perform these duties at the scene of a crash, they must file an accident report with local or state police and make a good-faith effort to locate the other party or parties involved as soon as reasonably possible, so they can exchange information like they otherwise would have at the accident scene. Since a violation of this law is a Class 5 felony offense, ensuring compliance with these requirements is essential to preserving the right to civil recovery.
Responsibilities of the Injured
People involved in a car accident will need to assist their Virginia car accident lawyers by gathering evidence that can prove their cases if it becomes necessary to go to court. After a car accident, the first thing victims need to do – after securing proper medical care for the incident – is to document all of the damages. Take photos of the scene, get the names and contact information of any witnesses, and secure all medical records related to injuries sustained in the accident.
Right after the accident occurs, it's not always possible to determine how severe the injuries are going to be. This makes it wise to see a doctor right away and have the injuries documented. Some injuries sustained in car accidents do not appear right away and may show up, or become worse, days later. It will be essential for the NoVa car accident lawyers to have medical documentation of the injuries and any subsequent pain and suffering.
The lawyers will also want to speak to any witnesses who were present at the scene of the accident. The best time to gather these people's names, addresses and telephone numbers is right after the car accident occurs. If the lawyers believe that a lawsuit may be necessary, they will interview these witnesses themselves.
Virginia's Harsh Contributory Negligence Standard
Unfortunately, civil recovery following car accidents in Virginia can often be a lot more complicated than it would be in other states, thanks to the way state courts approach comparative negligence. In most states, a personal injury plaintiff being found partially to blame for the accident that injured them would allow a court to proportionately reduce their final damage award.
In Virginia, though, a plaintiff found to bear any percentage of fault—even one percent—for their own injuries is ineligible to recover any compensation at all. Because of this, representation from a seasoned lawyer is often especially crucial in Virginia car accident cases, as they could help combat allegations of contributory negligence made against a plaintiff.

Virginia Car Accident Lawyers' Role in a Case
People are entitled to represent themselves in court or to hire an attorney that does not have an affinity for personal injury litigation, but their best chances of prevailing with the highest possible judgment is to retain a NoVa car accident lawyer dedicated to helping them receive the most favorable compensation possible.
Our NoVa car accident attorneys have years of experience practicing personal injury law. This makes them well familiar with the medical side of the equation as well as the legal side. For example, these types of cases often require that experts testify in court on behalf of the plaintiffs. Because car accident attorneys have tried these types of cases many times before and know who the best expert witnesses are, they know exactly who to approach to help them with their latest cases.
The complexity of lawsuits often worries people, and they may refuse to see a lawyer because of it. Hiring a car accident attorney does not have to mean that a lawsuit will be filed even if the insurance company tries to keep from paying the injured parties' bills. Once these auto insurance companies learn that the injured are represented by experienced car accident lawyers, they may evaluate their initial position and in some cases, may be willing to offer a favorable settlement outside of court.
Dealing With a Car Accident in Virginia
Auto accidents are a far too common occurrence and can create a great deal of havoc. That can include serious injuries, massive medical bills, damaged property, and the loss of time at work and with those you love. The statistics for automobile crashes in the Commonwealth of Virginia demonstrate that many residents of the state will, at some point, be involved in an accident or collision that can lead to direct and collateral damage. If you have been involved in collision, or you know someone who has, you should contact a dedicated auto accident lawyer as soon as possible. That attorney can provide you with a frank assessment of your potential claim for any harms and losses you have suffered, and they can explain every step of the civil litigation process so that you are prepared should you choose to file such a claim.
Time Limits on Car Accident Claims
Car accident victims in Virginia have a limited amount of time to file suit. Under VA Code §8.01-243, a plaintiff who wishes to file suit for damages related to a personal injury has only two years after discovering those injuries—or two years after the date of a wrongful death—in which to do so. Claims seeking recovery solely for property damage have a filing deadline of five years following the date of the incident in question, as per this same section of Commonwealth law.
Advantages of Having a Virginia Car Accident Lawyer
The decision to file a claim should be given serious and thoughtful consideration. That is because the fallout from a car crash can extend far beyond the obvious immediate damage. A motor vehicle crash may damage more than just a car, motorcycle, truck, train, or various other vehicles. It can cause more than physical injury. The costs associated with vehicle and property damage repair, insurance deductibles, lost wages due to missed work, and medical bills for the treatment of physical injuries can accumulate quickly. Equally important is the fact that the person who caused the collision – if left unchecked – can go on to cause harm to others in your community. Our team of  accident attorneys are well versed in Virginia laws and regulations and are also sensitive to the physical and emotional turmoil caused by such incidents. The earlier you contact one of our well-qualified attorneys, the earlier they can begin to review all the facts of your case, secure crucial evidence, and identify possible witnesses. For a general overview of what such a case may entail, please read further.
A Virginia Auto Accident Attorney in His Own Words
Below is more information about how an attorney can help you better understand your Virginia Car Accident case.
Other Types of Vehicle Crashes
It's also important to note that auto crashes don't apply strictly to cars. There is a wide range of vehicles that fall within this definition; from commercial trucks and public transit buses to ATVs and bicycles. You can be injured in a boating accident, during a taxi ride, by a driver who flees the scene, or while commuting on the Metro. Given the wide range of variables, it is crucial that you speak with someone who understands all of these issues and who has experience handling a variety of auto accident claims.
Below are other areas of vehicular accident claims our firm often handles:
Contact a Virginia Car Accident Lawyer Today
When another motorist's actions – whether intentional or unintentional – cause injury to you, you can pursue a claim that will hold that person liable for the pain and suffering you have endured, as well as any property damage and monetary losses you incurred as a result of the crash. With the prevalence of cell phones, drivers have more chances for distraction. An experienced attorney is best-suited to fighting for financial compensation for the harms and losses suffered and inconvenience caused by the at-fault party or other parties whose negligence may have contributed to your accident. Virginia laws are harsh on reckless drivers, impaired and intoxicated drivers, careless and distracted drivers, and those in violation of traffic laws, but the penalties invoked for such infractions will not provide you and your family with the recompense you need and deserve.
By hiring a Virginia auto accident lawyer, you can rest assured that you have an advocate fighting on your behalf and that the full scope of justice will be served, which will ensure safer roadways not only for you and those you love but for your community and state as well.  Call Price Benowitz LLP, Virginia at (703) 783-6046, to schedule a free consultation with one of our legal professionals.