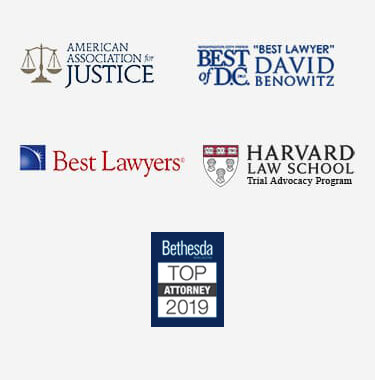 D.C. Expungement: Interests of Justice
One way to have your record expunged is by filing a motion with the court requesting that the court seal your criminal record in the interests of justice. Unlike a motion filed on grounds of actual innocence, this motion argues that regardless of your guilt or innocence, justice would be better served by having your record sealed than by having it publicly available.
To learn more about interests of justice expungement motions, call a D.C. expungement lawyer today.
Why Work with an Expungement Attorney?
An experienced Washington D.C. expungement lawyer can help you to gather all the documents and information supporting your petition for expungement, and will know how to incorporate them into your motion to give you the opportunity for success.
Most importantly, this motion only allows the court to seal your records after a waiting period has elapsed since the termination or completion of your case.  These waiting periods vary in length depending on the nature of your charge and the final disposition at court. Speak with a D.C. expungement attorney to learn more about the waiting period associated with the charge that you're looking to have expunged or sealed.
What the Court Considers
In determining whether or not to grant your motion in the interests of justice, the court considers a wide variety of factors that take into account your conduct prior and subsequent to the offense.  These include the nature and circumstances of the offense, your employment history, your criminal record, and your character in general.  The court also considers the number of cases you are seeking to seal, the amount of time that has elapsed since, and any efforts at rehabilitation that you might have made.
Eligible Misdemeanors
In the District of Columbia, eligible misdemeanors are any misdemeanors not explicitly classified as "ineligible" by the D.C. Code. All eligible misdemeanor arrests, charges, or even convictions can potentially be expunged, with one exception: an eligible misdemeanor conviction cannot be expunged if you also have an arrest or conviction for an ineligible misdemeanor or felony.
Felonies and Ineligible Misdemeanors
If you have been convicted of a felony in D.C., or if you have been convicted of any ineligible misdemeanor, there are a couple things you'll want to keep in mind:
These convictions will never be eligible for expungement in Washington, D.C.
Any eligible misdemeanor convictions on your record become ineligible for expungement.
Existing felony and ineligible misdemeanor convictions also extend the waiting period that must expire before you file an expungement motion for any other charges on your record that did not result in a conviction.
There a number of other intricacies present in the D.C. code that apply to interests of justice expungement motions, and these complicating factors may apply to you, depending on your past criminal record and the facts of your case. Make sure that you have your bases covered by working with an experienced expungement attorney.
Call our Law Offices Today
Interests of justice expungements rely heavily on your past history and the decisions you've made since your charges or conviction. Call our DC law offices and conduct your free initial consultation today if you'd like to learn more about what this process might look like for you.