Awards and Accolades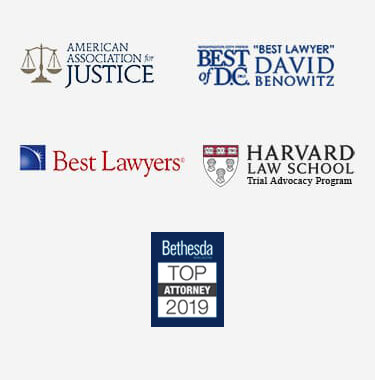 Virginia Divorce Lawyer
A skilled Virginia divorce lawyer will fight to represent individuals who have been served with divorce papers, or who are considering filing their own divorce case. Read on to learn how you can take an important step towards protecting yourself by contacting an experienced family attorney today.
Divorce Law and Procedure in Virginia
All divorce cases in Virginia are handled by the local Circuit Court. All motions that are presented in the divorce case will be heard there and, if necessary, the trial will be conducted in the Circuit Court as well. Before this step, however, there are requirements that must be met for the court to hear the case.
The following circumstances constitute the grounds for an absolute divorce in Virginia:
Desertion by one spouse of the other.
One of the parties has been convicted of a felony and was sentenced to more than one year in jail, and cohabitation did not follow after this confinement.
One year after one spouse has threatened bodily harm to the other.
If the parties have lived separately for one year. Alternatively, this time period may be reduced to six months if there are no children born of either party and the two parties come to a separation agreement.
A skilled Virginia divorce lawyer can assist in starting absolute divorce procedures if one of these conditions has been met.
Issues in Finalizing Divorce
A number of issues must be decided by either the court or the divorcing parties before the divorce can become final. These matters include property distribution, child custody, debts, support payments, provisions for maintaining insurance policies, and childrearing plans.
In some cases, these topics are agreed upon by both parties in a separation agreement. Other times, the final disposition of these items is determined at trial. It is important to remember that while the divorcing parties may not see eye-to-eye at the beginning of the proceedings, they often come to a settlement prior to the final trial.
Pre-Marital Agreements
One other issue to keep in mind is the potential presence of a premarital agreement. A premarital agreement (also known as a prenuptial agreement) is a contract that was executed prior to the marriage that may deal with certain incidents regarding divorce, such as support and property division.
Because courts are hesitant to interrupt the freedom of individuals to contract with each other, the presence of a prenuptial agreement can predetermine the outcome of certain aspects of a divorce. Individuals can speak with a Virginia divorce lawyer regarding the role or absence of a prenuptial agreement.
Speaking with a Professional Virginia Divorce Lawyer
Whether you have been served with divorce papers or are considering starting an action yourself, know that a seasoned Virginia divorce lawyer can help in a variety of ways. Virginia divorce lawyers will gather all necessary information through the use of interrogatories and financial records to form an accurate picture of the marriage. Using this knowledge while factoring in your needs and desires, a reliable Virginia divorce lawyer will work to protect your property, your time with your children, and your financial future. Reach out to a distinguished Virginia divorce lawyer today to set up your initial consultation.