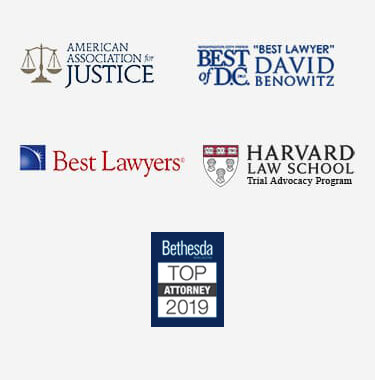 Maryland Divorce Lawyer
Whether you are distraught or glad that your spouse and you are ending the marital relationship, the process can be overwhelming without the help of a family attorney. A divorce is the legal ending of a marriage by order of the court. According to U.S. Census information, nearly 37,000 partners in the state got divorced in 2017.
There are state-specific regulations regarding legally terminating a marriage. The Maryland State Law Library provides a great deal of information on the subject, and it offers an internet service, called the People's Law Library of Maryland. However, if you are separating from your spouse, retaining a knowledgeable Maryland divorce lawyer to help you through the process could prove beneficial, as well.
Absolute vs. Limited Divorces
Unlike marriages, divorces in Maryland can be absolute or limited. It may be important to discuss these distinctions with a dissolution attorney in Maryland.
Absolute Divorce
Maryland Family Law §7-103 grants courts the ability to decree an absolute divorce. The acceptable grounds for an absolute divorce include the following:
Adultery
Deliberate desertion for more than 12 months
Conviction that calls for at least three years incarceration, provided that one year has been served
A full year of continuous separation
Insanity of one spouse, who has been confined to a mental institution for three years prior to the filing, if at least two psychiatrists have declared the person incurable
Cruelty of treatment of a spouse or minor youth with no realistic chance of reconciling
Excessively vicious conduct toward a spouse or minor children with no reasonable expectation of reconciliation
Mutual consent
12-month separation
An absolute divorce is final. When the decree is issued by the court, the parties may remarry, and any marital property is severed.
Limited Divorce
Conversely, a limited divorce, is akin to a legal separation, and by agreement only it may include a division of assets, but the marriage is not severed. Under Maryland Code, Family Law §7-102, a court can decree a limited divorce for a short time or for an indefinite period. Moreover, the court has the authority to revoke a limited divorce decree. Remarriage is, of course, prohibited during a limited divorce.
Educational Seminar Requirement in Maryland Divorces
Md. Code Fam. Law §7-103.2(b) mandates that couples attend an informational class that will further teach them about the effects of separation on children's lives. The course also conveys ideas on how to minimize the disruption to offspring. In the State of Maryland, the Court will order parents to attend such an educational seminar when custody is at issue. An attorney in Maryland can help you in filing for custody during your divorce and help you navigate this completed but important process.
Name Changes as Part of a Divorce Decree
Md. Code Fam. Law §7–105 allows for an ex-spouse to revert to a pre-marriage name by making the request for a name change part of the absolute divorce decree. If this item does not appear in the final decree, a divorcing spouse still has 18 months to file a motion for a name change with the family court. A Maryland dissolution lawyer may have additional ideas for what may be written into the absolute decree, and might also assist with filing necessary motions as part of a dissolution of marriage.
How a Maryland Divorce Attorney Can Help
It may be difficult for you to decide the type of separation that you wish to seek. Moreover, understanding all of the requirements and the implications of certain decisions might be overwhelming for you. Contact a Maryland divorce lawyer today to ask further questions and move forward with the divorce process.