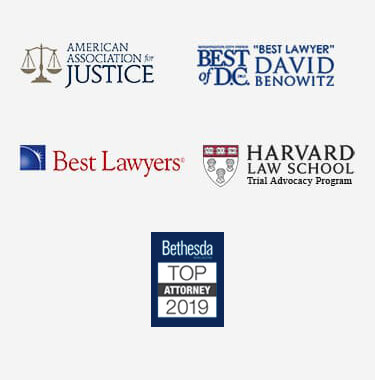 Rockville Family Lawyer
Legal issues involving families are among the most sensitive that pass through the local court system. Addressing familial issues in court requires the compassion and dedication of a local attorney. When a family problem arises, it is important to speak with someone you can trust.
Whether you are filing for or responding to a divorce, facing a potentially abusive situation at home, dividing marital property, fighting for custody of your children, or need help drafting a marital agreement, having a competent Rockville family lawyer is invaluable.
What Does a Family Law Attorney Do?
Our lawyers are experienced in handling many different kinds of legal disputes between family members. Some of the cases our family law attorneys are familiar with litigating include:
Paternity
Termination of parental rights
Juvenile delinquency
Child custody
Child support
Modification of custody or child support orders
Domestic violence
Divorce
Separation
Property division
A member of our team can also help draft certain legal documents to protect your interests. For instance, an attorney can help draft the terms of a legally binding marital agreement to protect your property rights and financial stability in the event that your marriage ends in divorce or separation. Examples of marital agreements include:
Postnuptial agreements
Prenuptial agreements
Separation agreements
Divorce complaints
Proposed child and spousal support orders
Parenting plan
Regardless of whether you or your entire family needs help with resolving a legal matter, a lawyer at our firm can offer the representation necessary to succeed in your family law court proceedings.
Benefits of Hiring a Family Lawyer
When faced with legal challenges within the family, relatives may be reluctant to seek an attorney's assistance for fear of escalating any already-existing tensions. On the contrary, a Rockville lawyer can help families minimize or even eliminate the need for formal legal action by participating in alternative dispute resolution and mediation.
An Objective Outlook
While it is difficult to represent yourself in a court of law in any case, it is especially tricky in cases involving a spouse or a child. Family legal matters are often deeply personal and fraught with emotion, and it may not be easy to separate intense feelings from rational thoughts. A skilled attorney can discuss familial legal disputes objectively, assess them impartially, and develop a practical strategy to reach a resolution that best serves your family.
Peace of Mind
Whether a family is deciding when and how to care for a child during a custody battle, or contemplating the value of one or more assets before distributing property in a pending divorce case, what these issues have in common is a need to plan for the future.
A legal representative who is experienced in litigating and mediating these family law matters can guide your case in the right direction by providing sound advice and insight. Let a member of our team address your concerns and requests professionally and compassionately.
Knowledge of the System
Those who choose to represent themselves in court are rarely trained in the law and are not familiar with the proper steps and procedures to follow when litigating family legal matters. For example, failing to file an appropriate pleading or document or filing a document after the applicable deadline may jeopardize your case.
Similarly, appearing in court without valid legal grounds or a proper defense to any counterclaims may also endanger your case. Fortunately, a qualified family law attorney in Rockville can complete the required paperwork and forms on your behalf to ensure that your case moves forward in the local court system. We can also advocate on your behalf in court and present a well-researched and thoroughly prepared case to the presiding judge.
Engaging with a Rockville Family Law Attorney Can Help
This area of law is complicated, so it is crucial to have a strong legal advocate on your side who possesses working knowledge of all applicable statutes and who can stay ahead of any potential challenges. An experienced attorney from our firm is familiar with the procedural requirements for local family legal matters and would help ensure that your case meets the standards that are applicable in your case. A Rockville family lawyer can help you achieve a case outcome that best serves you and your family's interests. Call our firm today to schedule an initial consultation.