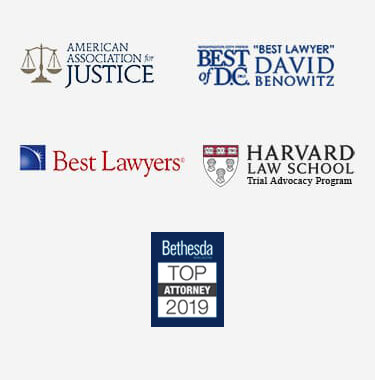 Maryland Wrongful Death Lawyer
When a loved one dies unexpectedly, those left behind tend to look for an answer, a reason, a simple understanding as to why the one for whom they cared so deeply was taken too early from this life.  Sometimes there is no comfort in the questioning, but when the answers point to the harmful and negligent actions of another person, there can be a sense of closure for the grieving family in retaining a Maryland wrongful death lawyer to hold the responsible party liable for his or her reckless or dangerous action.
The personal injury attorneys at our firm are committed to helping those who seek recompense for the wrongful death of a loved one.
A Maryland wrongful death attorney understands the compassion and care that must be shown to the victim's family, and at the same time embodies the tenacity and diligence necessary to achieve the maximum financial compensation from those responsible. Pursuing civil justice is important not only for the surviving victims of the wrongful death, but for the community where the negligent incident occurred. That is because such compensation is often the only incentive a person or entity has to correct their negligent or flawed business or personal practice.
Wrongful Death Claims
One of the most commonly pursued wrongful death claims stem from motor vehicle accidents.  Whether the accident involves commercial truck drivers, motorcycles, automobiles, bicycles, recreational vehicles, or even pedestrians, more than 35,000 people are killed each year as a result of some type of motor vehicle crash in Maryland, including:
Traffic accidents are not the only cause of wrongful death suits. Other common causes include, but are not limited to:
Medical malpractice/negligence
Nursing home abuse/neglect
Assault and other forms of violence
Premises liability accidents
Any time someone is fatally injured because of the negligent, reckless, or malicious actions of another, the surviving family members may be able to receive financial compensation through effective legal representation. Contact a Maryland wrongful death lawyer today.
Medical Malpractice
Cases of medical malpractice and medical negligence can often lead to long-term injury or illness or, in the most dire cases, death. Understanding your rights as the spouse, parent, or child of a medical malpractice victim is important to helping you achieve your rightful dues. When a health care provider fails to act with an acceptable and standard level of care and professionalism, he or she may be held liable for the suffering and economic burdens that ensue as a result of his or her actions.
Medical malpractice may involve a variety of errors and oversights which prove detrimental to the patient's health:
Physician error
Surgical error
Misdiagnosis or failure to diagnose
Birth injuries
Medication error
Entrusting one's health to the wrong physician or surgeon can be a fatal mistake. If your loved one was a victim of a negligent or reckless medical professional, you can hold him or her accountable. Your first step toward resolution is to contact a wrongful death lawyer in Maryland for a free case analysis.
Acts of Violence
While Maryland criminal law exacts punishment upon those found guilty of assault, homicide, manslaughter, murder, and other violent acts, the imprisonment and fines placed upon convicted criminals do not help the victims' families to deal with the financial repercussions of an unexpected and violent loss. By pursuing a wrongful death lawsuit, the grieving loved ones may receive a financial award to help compensate for the costs and economic impacts associated with such a loss.  Compensation may be obtained to assist with such things as:
Medical costs
Funeral and burial expenses
Loss of income
Loss of benefits
Loss of consortium/companionship
Loss of quality of life for the deceased, prior to death
And more
Acts of violence in the United States in 2010 were attributed to the deaths of more than 55,000 people, according to the Centers for Disease Control and Prevention. Those whose actions maliciously injure or kill another human being can be held accountable by law for their violence against another. As the family of a victim of violence, it is recommended that legal counsel is sought to determine if additional legal action may be taken against the offender.
Wrongful Death Litigation in Maryland
Cases of wrongful death are time-sensitive and are subject to various statutes of limitations. An attorney with experienced is well-versed in Maryland state law as it pertains to cases of wrongful death. By securing a competent legal professional, you can rest assured that the appropriate steps will be taken to achieve the maximum damage compensation available by law. They will know how theses types of cases typically proceed and can inform you on what to expect.
How a Maryland Wrongful Death Lawyer Can Help
An unexpected loss of a loved one is painful enough to bear, but when coupled with feelings of anger, despair, injustice, and a heavy financial toll, the victim's family may feel hopeless. By assigning legitimate fault to the appropriate parties, your Maryland wrongful death lawyer can help you find financial peace in the midst of one of life's most terrible storms. Should you want to file a survival action in MoCo, Anne Arundel, or PG County, an experienced Maryland attorney at our firm can help. To see legal results, you must act quickly. Do not hesitate to call. Schedule your free consultation with a wrongful death attorney in Maryland and find out more about the compensation to which you are entitled.