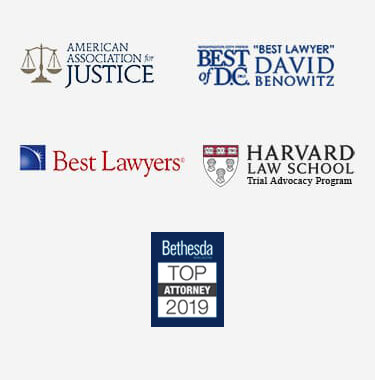 Maryland Car Accident Attorney
Working with a Maryland car accident lawyer can make a significant difference in your ability to successfully file your claim, deal with aggressive insurance companies, and pursue your claim.
When you're the victim of a car accident, the effects can be life-altering. Your injuries, whether temporary or permanent, could prevent you from working in the field of your expertise now and in the future. Your medical bills could be insurmountable, particularly if you lack adequate health care coverage. You could also experience prolonged pain and suffering, forever changing the life you were expecting to lead. Substantial property damage may also be contributing to your stress, particularly if you and your family need your vehicle on a daily basis. The good news is that a personal injury lawyer is familiar with the difficulties that can arise from a car collision. (En Español)
Following a crash, it is best to reach out to an experienced car accident attorney in Maryland who can answer your most pressing questions and help you understand the options available to you. If you retain legal representation, your attorney will examine each aspect of your auto accident lawsuit in order to build a strong case, while helping you navigate the challenging adjustment to the harm and losses you have suffered.
Our Maryland office is also home to an auto accident practice group that can help clients dealing with other types of accidents that involve other mechanized modes of transportation. For further information about car accident cases in particular, see the pages listed below:
If you retain legal representation, your attorney will examine each aspect of your auto accident lawsuit in order to build a strong case, while helping you navigate the challenging adjustment to the harm and losses you have suffered.
Collecting Compensation for Losses
Maryland car accident victims may recover several types of damages for their injuries, include economic damages, non-economic damages, and in rare cases, punitive damages. Economic damages include losses which have a specific dollar amount, such as lost income, medical bills, therapy costs, and associated expenses.
Non-economic damages, on the other hand, have no set dollar amount, and could encompass losses such as pain, suffering, disfigurement, scarring, and loss of consortium. Punitive damages also be awarded if the at-fault party's misconduct was especially appalling or malicious. Unlike economic damages, punitive damages are meant to punish the defendant for their egregious actions and discourage similar behavior in the future.
Predicting Settlement Values in Maryland Accident Cases
Predicting the value in any personal injury case, including ones involving a car crash, can be extremely difficult. In fact, even the most experienced Maryland car accident lawyers will only be able to arrive at a rough initial estimate due to the fact that there are so many factors in play, including ones that may be examined by a jury, the defendant's insurance company, or both. Juries use human reasoning, logic, and the guidance of a judge in order to assess these factors, while insurance companies use standardized software and formulas in order to do the same.
Ultimately, any prediction will be predicated on a fact-intensive investigation of the circumstances surrounding your case, including how the accident happened and the injuries and medical treatment resulting thereafter. If you have been involved in a car accident, regardless of if it is in Greenbelt, Montgomery County, or Howard County, speak with a Maryland attorney right away.
What Are Some Crucial Factors that Affect Maryland Car Accident Settlements?
Every car collision case is unique, but in an area as well-litigated as auto accident cases, there are a number of factors that will have a substantial impact the likelihood and size of potential settlements with the at-fault party and/or their insurance company.
The actual amount of money you may receive will depend on many circumstances of your case, as determined by the jury or the insurance company. Note that if your case never goes to trial, your settlement amount will be based on negotiations between your Maryland car accident lawyer and the defendant's insurance company. This is why you should look for an attorney you can trust and work with during this process.
Some of the factors that will considered when determining the value of your settlement can include the following, in no particular order:
Property damage to each vehicle
Severity, extent, and duration of injuries
Whether the injuries can be related to the car crash
Credibility of each driver
Mechanism of injury
Whether injuries are permanent or temporary
Pre-existing injuries
Subsequent injuries following the crash
Time lost from work
In Maryland, juries are not given knowledge of whether or not the defendant has an insurance policy that could contribute money toward a settlement.
One additional factor that will influence the size of your settlement is the location or venue of your scheduled trial. The attitude and nature of the jury may differ in rural areas (e.g., Wicomico and Baltimore County) and urban areas (e.g., Baltimore City).
The Influence of Insurance Companies on Accident Settlement Values
Before your case even goes to trial, the defendant's insurance company will typically submit an initial settlement offer to you and/or your Maryland car accident lawyer. Throughout the entire legal process, the insurance company will assess the following factors using software in order to determine the value of your settlement award:
The location of the accident and the trial
Any information submitted by your attorney
Medical records referring to the injuries you sustained in the crash
The accident's severity
The wages you lost stemming from the crash, as well as wages you may lose in the future
Dealing With a Car Accident in Maryland
When someone is injured in an automobile accident, so many questions arise: Are the injuries permanent? How will they affect their ability to work and lead the life they were expecting to live? How will they pay for the medical bills, especially if they will be unable to work for an extended period of time? A qualified Maryland car accident lawyer will examine every detail of the case in order to answer questions and get them the settlement the deserve. With the proper legal assistance, they can be fully compensated for medical bills, pain and suffering, lost wages, injuries, lost quality of life and more.
What Are The Benefits of Hiring an Experienced MD Auto Accident Attorney?
Entering a courtroom alone is extremely stressful, even for the most confident among us but particularly for someone who has just experienced the physical and emotional trauma associated with being in an auto accident. Insurance companies regularly deploy questionable tactics in an effort to protect their profits, including delaying payments or attempting to grossly underpay injured drivers. Hiring experienced counsel is the best way to take the guesswork out of the legal process and maximize the chances for compensation. Securing compensation serves two purposes: it provides clients with the support they need and deserve as they heal and rebuild their life; and it requires those at-fault for the injuries to take responsibility for their negligence. Obtaining experienced local representation also means:
Time sensitive evidence will be prepared and handled in an effective manner
Their injury and the cause will be thoroughly investigated
They will be prepared and confident when it is time to go to court
Auto Accidents in Maryland
The Maryland landscape is comprised of soggy marsh land, sandy dunes, bumpy mountain terrain, and acres of pine groves. In addition to the challenges posed by this landscape, the weather is often unpredictable as are the road conditions. With nearly 6 million residents, Maryland is ranked among the ten smallest states. The region, nonetheless, remains densely populated in several areas and attracts millions more on their way to and from Washington, DC. Given all these factors, the potential for involvement in a motor vehicle crash in Maryland is high, as is the potential for auto accident injuries.
According to the National Highway Transportation and Safety Administration, there were more than 5 million auto collisions reported by police departments across the country in 2010, 2011 and 2012. In addition, the NHTSA indicates there were more than 2 million reports of injuries for each of those years and more than 30,000 deaths as a result of such incidents in 2012. Fatalities dipped slightly in 2011 to just under 30,000 but were at more than 30,000 in 2010.
It is estimated a large percentage of accidents are caused by driver negligence. If a person has suffered injuries as a result of a Maryland automobile crash, obtaining dedicated legal counsel in a timely fashion could help maximize the results of the potential injury claim. For information regarding the potential for compensation, contact a dedicated Maryland auto accident lawyer.
Causes of Auto Accidents in Maryland
There are a wide variety of conditions that can result in collisions on the road, but driver negligence including texting, distraction, sleepiness, and Driving Under the Influence (DUI) of intoxicants remain among the leading causes of vehicular mishaps. Some other common causes include:
Hazardous weather conditions
Impaired nighttime vision
Construction and roadwork
Vehicle malfunctions
In the State of Maryland, SHA crews are currently performing roadwork in some two dozen counties which require the closure of traffic lanes. Potholes remain an ongoing problem statewide and the roadwork associated with repairing highways can prove hazardous for drivers. Major highways such as I-495, also known as the Capital Beltway, and U.S. Route 1, which are already subject to congestion, pose problems for residents and commuters alike. Sometimes there are collisions between a car on a highway and another on the shoulder of the road.
Medical Consequences of Car Accidents
Certain injuries sustained in a car collision can hinder your quality of life temporarily or permanently. Some of the most common automobile accident-related injuries are:
Broken or fractured bones
Internal injuries
Concussions
A number of these conditions can result in the need for ongoing medical treatment as well as a lack of mobility. An individual who suffers from lack of mobility and/or the need for extended medical care could also be inflicted with:
Expensive hospital bills
Job loss
Lost wages
Inability to perform routine tasks
Depression
Post Traumatic Stress Disorder (PTSD)
The link between the lack of mobility, or compromised mobility, and clinical depression has been investigated in a multitude of studies. One study noted by the U.S. National Library of Medicine and the National Institutes of Health used advanced technological equipment to identify symptoms of depression in older adults with limited mobility. The inability to carry out regular physical tasks has also been linked to obesity and weight gain which, in turn, can result in heart conditions, diabetes, and various other ailments.
Statutory Deadline to File a Car Crash Lawsuit in Maryland
In conformance with Maryland Code Annotated Courts and Judicial Proceedings §5–101, car crash victims have three years from the date of the wreck to initiate a lawsuit. When someone dies due to their injuries from the accident, the three-year timeline starts on the date of the decedent's death. This statutory deadline also applies to actions for property damage.
It is of significant importance that a car accident victim ensures their claim is filed by the close of the three-year window. If they do not file suit by the statutory deadline, the court may refuse to entertain their claim. Contact a Maryland auto accident attorney as soon as possible if the filing limit is fast approaching.
Contact a Maryland Auto Accident Lawyer Today
Sustaining serious injury as a result of an auto accident can be a life-altering experience, but it doesn't have to severely hinder or limit your future. Whether you were injured as a result of driver negligence, hazardous road conditions, or a weather-related collision, you do have the right to fight for compensation for the harms and losses you have suffered. If you are suffering from an auto accident injury in Maryland, contact our auto accident attorneys today for a free, initial legal consultation.