Awards and Accolades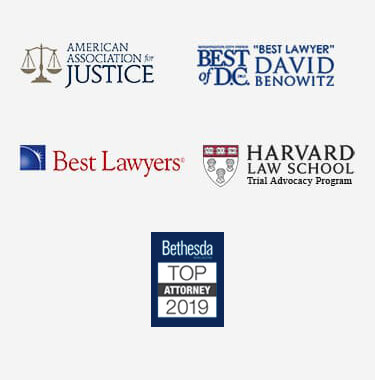 Our firm was built on the understanding that comprehensive representation does not begin and end in the courtroom. We know that just having sound legal counsel does not translate to a comprehensive and satisfactory experience for a client. We want our clients to be satisfied with their choice in firm, not just in their choice of attorney. Our customer service and support staff is dedicated to making the experience of retaining an attorney as smooth as possible and to ensuring that no client ever has a question or concern that goes unanswered. It doesn't matter how good an attorney is if they don't pay close attention to the wants and needs of the client. We want to make sure that each of our clients is as happy with the experience they have with our firm as they are with the ultimate result in his or her case.
From the moment a client first contacts us, we put the full support of our firm behind them. Taking into account the unique specifics of your case, our client management team will make sure you are set up with the attorney who is best suited to pursue a positive result in your case. We then provide a free initial consultation in which you can meet with the attorney to further your understanding of the potential impacts of your case and what type of strategy they might use moving forward. Our team will then handle all interaction with third parties during the investigation of your case while also keeping you informed and prepared when your involvement is necessary.
We will also make sure that important deadlines are met and that no important paperwork is left undone. If your case eventually goes to trial, we will aggressively litigate on your behalf while also making sure that your rights and liberties are protected throughout the process. Finally, once your case has been completed, we will continue working with you to help you return your life to normalcy as quickly and thoroughly as possible. Our relationships with our clients don't end when a verdict has been reached; we continue to help our clients for as long as our services are required.
We understand that our clients typically come to us during a time of great stress and anxiety. Facing potentially devastating criminal charges, fighting for legal immigration status, or pursuing needed damages is rarely a carefree process. Our attorneys are up late worrying about their cases so that their clients can rest easy. We answer every question in a timely manner and make sure that you, our clients, are kept completely up to date with the progress of your case. Price Benowitz is not just a group of attorneys. We are a complete firm of dedicated legal professionals working together to serve our clients during a time of need.
Please contact us for more information about our attorneys and the various services they are able to provide ranging from personal injury and immigration to Qui Tam and medical marijuana in DC and Maryland. Schedule a consultation with our firm today.
Personal Injury Attorneys
The personal injury practice group at Price Benowitz LLP is dedicated to providing a high level of service to clients who are suffering from various types of injuries, from slip and falls to car accidents to mass torts cases. We bring a wide array of personal experience to the table and have successfully represented numerous clients by negotiating claims and litigating in civil court. 
When you have been injured as a result of the negligence or recklessness of another person or organization, it is your right to seek compensation for your medical bills, hardship, and suffering. Our aggressive personal injury lawyers are here to represent your legal interests so that you can focus on healing instead of battling with insurance companies or filing paperwork. We work with you throughout the entire process, answering questions, providing updates on the status of your claim, and conducting a thorough investigation to gather evidence relevant to your case. 
Our personal injury practice operates on what is called a "contingency fee" basis. That means that we require no payment up-front. In fact, it means that our lawyers receive payment only after you have successfully received compensation from your injury claim. This takes financial pressure off of you and your family at a time when medical bills and potential loss of income are very important factors in your day-to-day life. 
Some of the most common personal injury cases we handle include:
Slip and Fall
Medical Malpractice
Car Accident
Truck Accident
Pedestrian Accident
Traumatic Brain Injury (TBI)
Nursing Home Abuse
Sexual Abuse
Dangerous Drugs and Products
Wrongful Death
If you're curious to know how experienced representation from our personal injury practice group can make a difference in your life, please call our law offices and conduct your free initial consultation. During this call, we'll collect the information necessary for us to learn how we may be able to help. Our legal team is standing by, so don't wait to take the first step toward compensation for your injuries.
Criminal Defense Lawyers
The attorneys at Price Benowitz Criminal Defense are devoted to providing their clients throughout the District of Columbia, Maryland, Virginia, and Pennsylvania with a high level of legal representation. If you have been charged, our attorneys will work tirelessly to pursue a positive result in your case. They will not rest until they are sure that every strategy has been exhausted and our support staff will ensure that you are as comfortable as possible throughout what might be a difficult process.
If you're facing criminal charges, whether it's a DUI or domestic abuse, you may be overwhelmed and anxious, imagining a grim future. Having represented hundreds of clients—and having defended against the full gamut of offenses—our attorneys know what you're facing, and how you're feeling. With years of experience, both in the courtroom and in the law office, the attorneys at Price Benowitz are well positioned to defend your rights and protect the due process you're guaranteed by the Constitution. Our defense lawyers will work tirelessly to resolve your case with the best possible solution, working towards a dismissal, if possible, negotiating with prosecutors, if necessary, and challenging the charges in court, depending on the parameters of the case. Our office also handles expungement cases.
Our attorneys are ready to help. They will dedicate themselves to minimizing the personal, professional, and legal impact of the charges you're facing. The attorneys at Price Benowitz can be of assistance in fighting any of the following charges:
Aggravated Assault
Aiding and Abetting
Arson
Assault
Bribery
Burglary
Child Abuse
Child Pornography
Computer Crime
Conspiracy
Credit Card Fraud
Disorderly Conduct
Domestic Violence
Drug Charges
Drunk Driving
Embezzlement
Extortion
Forgery

Fraud
Gun Crimes
Public Intoxication
Rape
Murder
Perjury
Prostitution
Robbery
Sexual Assault
Shoplifting
Solicitation
Stalking
Statutory Rape
Tax Evasion
Theft
Vandalism
Wire Fraud
Immigration Attorneys
Price Benowitz LLP employs several immigration lawyers who are committed to assisting individuals, families, businesses, and multi-national corporations in solving the problems that are inherent in the complexities of U.S. immigration law. No matter the purpose, navigating the United States immigration system can be confusing and cumbersome; but don't worry, the legal consultation of our attorneys can make the process much easier. Whether you're trying to find visas for employees or to protect a relative from deportation, our lawyers can work and fight for your best interests.
Our team of immigration lawyers works out of offices in Washington DC, Maryland, and Virginia, but they have experience dealing with immigration cases from around the globe. If you, your family, or your business is petitioning for U.S. citizenship, or working to procure visas, our attorneys and their years of litigation experience in these areas may be able to help.
In addition to a deep understanding of immigration law, our attorneys are attentive and diligent, making sure necessary documentation is taken care of so any and all critical deadlines are met. Our lawyers provide legal consultation and services to meet the following needs:
Immigrant Visa
Employment
Immigration
Deportation
US Immigration
H-1b temporary professional worker visas
National interest waivers
Family-sponsored permanent residence

J-waivers
K-1 visas for fiancées of U.S. citizens
Naturalization
E-1 / E-2 investor/trader visa
U / T visas for victims of violence or human trafficking
F / M student visas
Prince George's County Fraudulent Doctor Claims 
If you or a loved one was a patient of fraudulent OB-GYN Charles Akoda, please contact Glenn Ivey or John Yannone today to discuss your case. You may be entitled to compensation, so reach out to a skilled attorney today to assess your situation. 
Price Benowitz Social Justice Scholarship
We are pleased to announce the 2017 Price Benowitz Social Justice Scholarship! Price Benowitz launched the Social Justice Scholarship last year, to much success. View information about our past winners. 
The 2017 Price Benowitz Social Justice Scholarship is raising awareness for the day-to-day difficulties facing individuals with disabilities across the country.